Bridge Builders Biography Chapter 10
Broad Street "Discovery Bridge"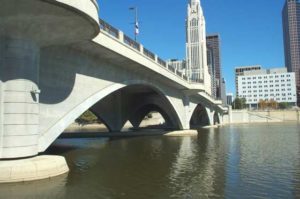 The grand opening of the Broad Street "Discovery Bridge" in 1992, honoring the 500th Anniversary of Columbus' arrival to the "New World," marked the rebirth of the "City Beautiful" movement for bridge construction in Franklin County.
The 660-foot long, 70-foot wide structure, over the Scioto River in downtown Columbus, consists of five post-tensioned, concrete plate girder spans supported by reinforced concrete piers and abutments.
The bridge, built by the C.J. Mahan Construction Company, won an "Award of Excellence" from the Federal Highway Administration for the use of modern engineering to reflect the architectural style of the previous Roman arch bridge, opened in 1921.