Bridge Builders Biography Chapter 7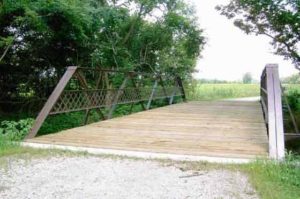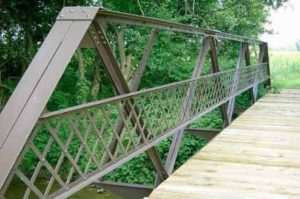 The Warren Pony Truss Bridge, named for property owner James R. Shepard, was built by the Columbus Bridge Company in 1897 to carry Lambert Road over the Hellbranch Run in Pleasant Township.
The Pony Truss design allowed vehicles to travel between open parallel superstructures un‑braced above the deck.
The bridge was abandoned in 1937 when Lambert Road was relocated.
In 2003, the Franklin County Engineer Bridge and Utility Maintenance Department dismantled, repaired and painted the historic structure in preparation for its relocation to the Pickerington Ponds Metro Park in 2004, where it now carries a trail over Georges Creek. In 2005, the Ohio Department of Transportation awarded the engineer's office for its preservation and relocation of the bridge.