Bridge Builders Biography Chapter 17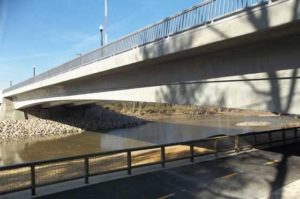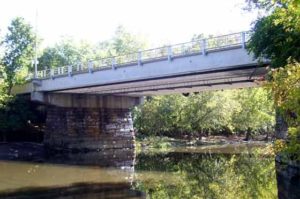 The Dodridge Street Bridge, spanning the Olentangy River just north of The Ohio State University Campus, was opened to traffic on November 2, 2012.
The triple-span, arched, concrete girder structure is 253 feet long and stands 29 feet above the water. Post tensioned cables are embedded within the concrete to support the arches and deck.
Architectural enhancements include decorative railing and street lighting, and a pier-free river span.
The popular Olentangy Trail, adjacent to the east end of the bridge, was also rebuilt. Trail construction involved the placement of new asphalt pavement, installation of safety railing, and the restoration of a retaining wall by the river to prevent flooding and erosion.
The $7.7 million project was built by the J.D. Williamson Construction Company from plans prepared by E.L. Robinson.
The previous Dodridge Street Bridge, built in 1969, was a double-span, steel and concrete box-beam structure that that rested upon a stone pier and abutments from the Pratt truss bridge that was erected there in 1901.
The historic stone blocks were used in the rebuilding of the Olentangy Trail and retaining wall.