Bridge Builders Biography Chapter 9
Hayden Run Road and Fishinger Road Bridges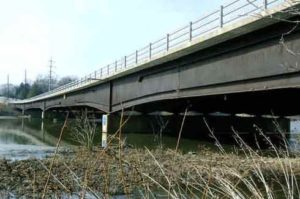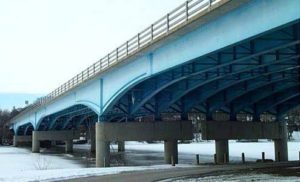 The four-span bridges carrying Hayden Run Road and Fishinger Road, over the Scioto River, were both constructed with arched, continuous steel girders and reinforced concrete.
The Hayden Run Road Bridge, built by the Kokosing Construction Company in 1984, is 800 feet long and 60 feet wide.
The C.J. Mahan Construction Company built the 700-foot long, 60-foot wide Fishinger Road Bridge in 1989.
The modern, austere design of these structures fulfills the strategy to build functional, cost effective bridges that meet traffic demands and are easy to inspect and maintain.