Bridge Builders Biography Chapter 14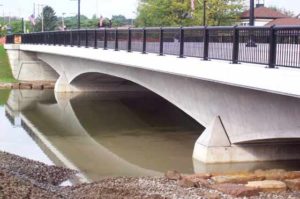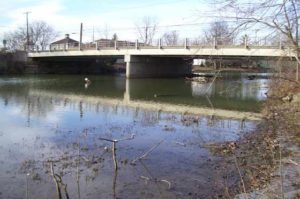 The West Main Street Bridge, spanning Alum Creek in the City of Westerville, was opened on August 19, 2011 following a public celebration.
The project was the result of a community partnership between the City of Westerville, Franklin County, Otterbein University and the many citizens that participated in the planning and design selection process.
The triple-span, steel and concrete, arched box girder bridge was built by the Kokosing Construction Company for $5.8 million. The structure is 210 feet long and 58 feet wide. The construction plans were prepared by WD Transportation.
Annual bridge inspection reports revealed that the old double-span, concrete box beam bridge, built in 1969, had advanced deterioration of the superstructure and deck and was in need of replacement. It was supported by an insufficient concrete pier and sandstone abutments from the previous single-span Pratt truss bridge built in 1894.
The modern design of the new structure is representative of the county's goal to build functional and cost effective bridges that meet traffic and pedestrian demands, are easy to inspect and maintain, and aesthetically fit the surrounding environment.