Bridge Builders Biography Chapter 18
Our Road and Bridge Legacy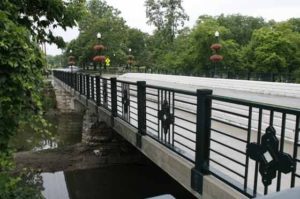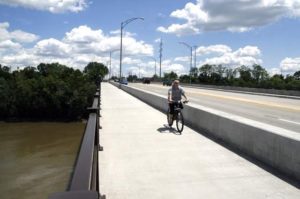 The Franklin County Engineer's office is continuing the historic tradition of innovative road and bridge building.
We are currently responsible for the maintenance and improvement of 260 miles of county roadway and the inspection, maintenance, and construction of 360 county bridges and 147 culverts (Clifton Avenue and Greenlawn Avenue Bridges shown here).
Many of the county's bridge rehabilitation and replacement projects have provided for the addition of sidewalks, bicycle lanes, and multi-use pedestrian trails. Whenever possible, "mobility options" are incorporated into our construction plans.
According to the Federal Highway Administration's National Bridge Inventory (NBI), Ohio has the second largest number of bridges (behind Texas) with just over 28,000 structures.
The NBI ranking of Ohio's 88 counties shows that Franklin County has the most bridges with 905 structures. In addition to the Franklin County Engineer's office, local bridges are built and maintained by District Six of the Ohio Department of Transportation (interstate, federal, and state routes) and the county's municipalities (roads and streets). All of the entities actively work together to coordinate their bridge improvement efforts.