Bridge Builders Biography Chapter 5
Bergstresser-Dietz Covered Bridge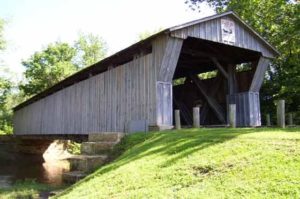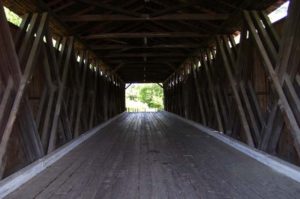 Although the construction of ornamental covered bridges can be traced to ancient China and Babylonia, the idea of erecting a house-like structure on top of a bridge, to protect its wooden deck and trusses from the weather, was developed by early Swiss, German and Austrian engineers. By 1760, more than 100 covered bridges spanned the Rhine River, thus influencing the way European immigrants would build bridges in America.
The Bergstresser-Dietz Covered Bridge, which carried Ashbrook Road over the Little Walnut Creek in Canal Winchester, is the oldest bridge in Franklin County. The triple Partridge Truss design was patented by Rueben Partridge, Vice President of the Columbus Bridge Company, which built the crossing for the county in 1887 at a cost of $2,690. The single span, white oak and pine timber structure is 125 feet long, 20 feet wide, and has an interior clearance of nearly 14 feet.
The historic bridge, which is listed on the National Register of Historic Places, was named for neighboring property owners Daniel Bergstresser and Samuel Dietz who joined Benjamin Ashbrook in petitioning the board of county commissioners for a formal roadway and river crossing to serve local farmers.
An extensive restoration project by the county transformed the single lane crossing into a pedestrian bridge in 1991.