Bridge Builders Biography Chapter 12
Beach Road Cable-Stayed Bridge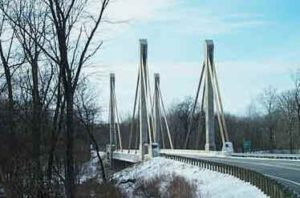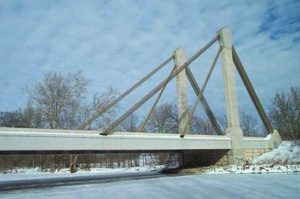 Despite the practicality of cable-stayed technology developed in France and Great Britain during the 1800s, this style of bridge would not be widely built until after World War II when French Engineer Albert Caquot (1881-1976) and German Engineer Franz Dischinger (1887-1953) introduced effective and economical cable-stayed bridge designs in answer to major steel shortages in Europe.
The first cable-stayed suspension bridge entirely located in Ohio was built by the the C.J. Mahan Construction Company in 2001 for $3 million. It carries Beach Road over the Big Darby Creek in Brown Township.
The 300-foot long structure, designed by Jones-Stuckey Ltd, Inc. is supported by cables connected to four 80-foot tall towers.
To protect the environmentally sensitive area, the single span bridge was configured without any piers in the waterway.