Bridge Builders Biography Chapter 16
Portman Park Pedestrian Bridge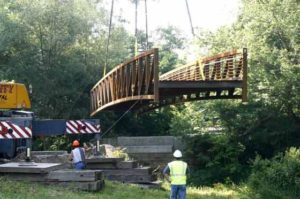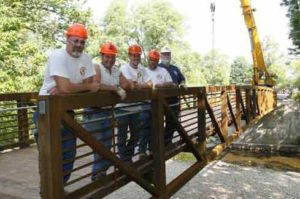 The Portman Park Pedestrian Bridge, spanning Blacklick Creek, was installed for the City of Columbus Parks and Recreation Department by the Franklin County Engineer Bridge and Utility Maintenance Department on May 24, 2012.
The 102-foot long, single-span, steel truss structure was designed and prefabricated by Contech Bridge Solutions for $75,000.
The previous steel girder bridge, built in 1948, carried Long Road over the creek until 2002 when structural deterioration caused the roadway to be vacated and the bridge to be limited to pedestrian use. The crossing was then demolished in 2010.
The installation of the prefabricated structure on stone abutments from the old bridge was an efficient and cost effective way to meet pedestrian needs as well as minimize environmental impacts to the park and waterway.