Bridge Builders Biography Chapter 13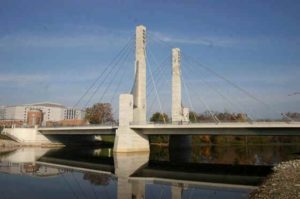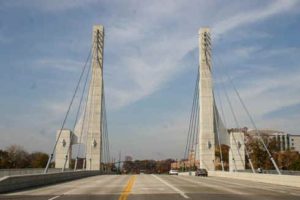 The Lane Avenue Bridge, spanning the Olentangy River on The Ohio State University Campus, was opened on November 14, 2003.
The cable-stayed structure, built by the C.J. Mahan Construction Company, is 370-feet long and 112-feet wide. The pier towers stand 145-feet above the river and hold ten multi-strand cables on each side of the bridge to support the deck. More than 36 miles of post-tensioned cable strands are embedded within the concrete to strengthen the deck and edge girders.
Jones-Stuckey Ltd, Inc. prepared the construction plans.
On May 21-22, 2003, a 550-ton capacity crane was used to install a 52-ton (104,000 pound) cable anchorage assembly atop each of the concrete pier towers. The Engineer News Record cited the anchorage assemblies as the heaviest single pieces of steel ever to be galvanized, and lifting them into place at such a height and angle was a major hurdle in building the bridge.
To learn more about this unique structure, please visit our Lane Avenue Bridge Story page.