Highway Chronicle Chapter 8
Streetcars Provide Reliable Mud-Free Travel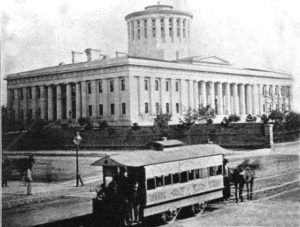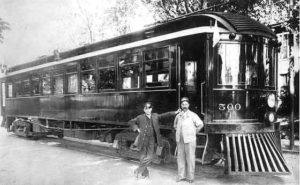 In 1863, horse-drawn streetcar service, referred to as "the street railroad," provided the first mud-free public transit in Franklin County. A ride down High Street, from Naghten Street to Livingston Avenue, cost just a nickel. Tracks were later added to Long Street in 1870, and State and Oak Streets in 1872.
Electric streetcars, powered by overhead wiring, were introduced to Columbus during the summer of 1887 when the new technology was tested on 11th Avenue, between High Street and the State Fairgrounds. This innovation lead to the development of countywide electric street car service. High Street was the first major route, inaugurated on January 14, 1891.
Decorative steel arches erected over High Street, to hold the electrified wiring for the streetcars, lead Columbus to be known as "the Arch City."
Interurban streetcars that provided passenger and freight service between cities began operating in 1902. Once the large parlor cars left the busy streets of Columbus, they could travel more than 50 mph on their routes to Dayton, Cincinnati, Chillicothe, Zanesville, Mt. Vernon, Mansfield and Cleveland. Cleveland, Southwestern & Columbus Railway.
By 1905, more than 700 miles of streetcar track ran through Franklin County and the central Ohio region. Popular destinations included the Ohio Statehouse; Palace, Ohio and Southern Theaters; State Fairgrounds; Buckeye Lake, Indianola, Olentangy, and Minerva Amusement Parks; Lazarus Department Store; and The Ohio State University.
The popularity of automobiles and buses, and the "Great Depression" of the 1930s brought about the end of interurban streetcar lines. Local streetcars, however, would remain in operation until replaced with trackless trolleys and diesel buses by the Columbus Transit Company.
The last streetcar ran on the Neil Avenue/Main Street Line on September 4, 1948.
If you listen closely, you can still hear the bells, the rattling change, and the conductor's booming voice: "Next stop, Capital Square!"