Highway Chronicle Chapter 4
Original Franklin County Highways are Built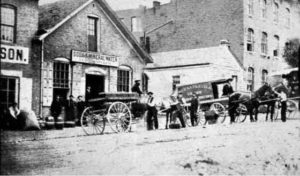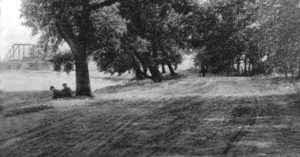 In 1826, the general assembly approved legislation incorporating the Columbus & Sandusky Turnpike Company to build a highway to the Lake Erie region. The 106-mile long turnpike was opened in 1834 for $75,000. The compacted clay and loam surface, however, proved to be inferior to macadam construction and was often described by disgruntled travelers as "the long line of mud."
Corduroy roadways, consisting of logs embedded side by side across mud-prone areas, were constructed to provide passable surfaces. Heavy use eventually caused them to slump and become hazardously bumpy.
Building plank roads with 8-foot long boards laid upon an extensive 16-foot wide framework of stringers was another early innovation, but maintaining the wooden members was arduous work.
Despite the lack of uniformity in construction, a highway boom across Franklin County eventually included the Columbus & Portsmouth Turnpike (1847), Columbus & Harrisburg Turnpike (1849), Columbus & Worthington Plank Road, replacing the Franklin County section of the Columbus & Sandusky Turnpike (1850), Columbus & Groveport Turnpike (1850), Johnstown Plank Road (1852), Columbus & Granville Turnpike (1852), Franklin & Jackson Turnpike (1852), Columbus & Sunbury Plank Road (1852); and the Clinton & Blendon Plank Road to Westerville (1854).
These early thoroughfares were operated by incorporated highway companies that financed construction and maintenance costs through stock sales, toll collections, and government appropriations.