Highway Chronicle Chapter 7
New Pavement Techniques are Celebrated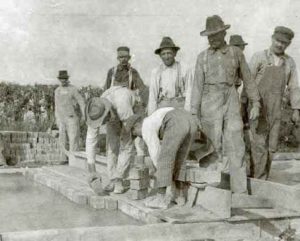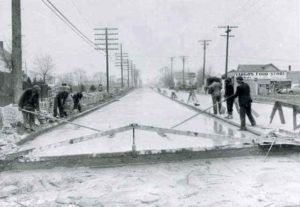 In 1867, High Street, between Friend and Naghten Streets, became the first paved boulevard in Franklin County when wooden blocks were laid side by side nearly a foot deep in the earthen surface.
Asphalt pavement, which evolved from the mixing of coal tar with roadway aggregates to create firmly bound surfaces, was heralded with a promenade concert at the State House in 1873 following the resurfacing of High Street.
Colonel N.B. Abbott was contracted to build the county's first pavements with asphalt, imported from Trinidad, on State Street, from High Street to Third Avenue, in 1876, and a three-mile stretch of High Street, from Naghten Street to the Columbus north corporation line, in 1877.
Heavy wear led to the reconstruction of High Street in the downtown area with Medina Stone and Georgia Granite block in 1885, and later Trinidad Asphalt in 1915.
George Bartholomew, inventor and founder of The Buckeye Portland Cement Company, was honored at the 1893 World's Columbian Exposition in Chicago for his construction of the nation's first concrete streets in Bellefontaine, Ohio in 1891. This accolade inspired another famed inventor, Milan, Ohio native Thomas Edison to further develop the new road-building technology. The Edison Portland Cement Company laid the nation's "first mile" of concrete pavement, in 1912, during the construction of the Morris Turnpike (S.R. 57) near New Village, New Jersey.
Ohio's first major stretch of concrete highway was laid in 1923 during the construction of the Warren G. Harding Highway (U.S. Route 30), near Lima, which was part of the cross-country Lincoln Highway system.
In 1925, Broad Street became the first thoroughfare in Franklin County to be paved with concrete.