Highway Chronicle Chapter 10
Legislators Lay the Foundation for State and Federal Highways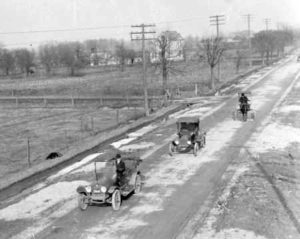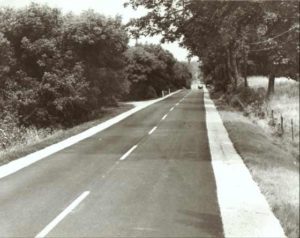 In 1912, the Ohio Legislature gave the state highway department authority to establish and oversee an Inter-County Highway System. The inclusion of more than 9,000 miles of major roadway lead to further legislation in 1921 that enabled the state to actively plan, design, build and maintain highways from newly created district offices.
At the federal level, the first road aid act was passed by Congress in 1916 and provided $75 million in matching funds to state highway agencies "to get American drivers out of the mud."
Later, the Federal Highway Act of 1921 established the Bureau of Public Roads and supplied another $75 million in matching funds to help develop the Lincoln Highway, which became the first paved two-lane intercontinental automobile route between New York and San Francisco. The Ohio portion followed U.S. Route 30 from East Liverpool westward through Van Wert to the Indiana line.
During the Great Depression, the Federal Works Progress Administration, Public Works Administration, and Civilian Conservation Corps put thousands of unemployed Ohioans back to work building roads, bridges, drainage, and landscape infrastructure. The average annual application of hot mix asphalt on the state's thoroughfares rose more than 1,000 percent from 19,400 tons in 1929 to 210,000 tons by 1940.
Amidst this great period of construction, the Ohio Legislature officially re-designated the position of "County Surveyor" to that of "County Engineer," in 1935, to provide for the building and maintenance of county roads and bridges.