Highway Chronicle Chapter 12
Growing Traffic Needs are Met with New Technologies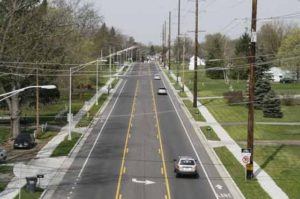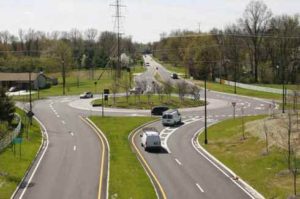 To meet the challenges of increasing traffic volumes and safety concerns, the County Engineer's Office employs new engineering and construction technologies, whenever applicable, in accordance with federal, state, and municipal standards.
Heavily travelled roads are being rebuilt and widened to accommodate turn lanes, bicycle lanes, sidewalks, curbing, and new storm water drainage systems. (Clime Road shown here)
Intersections with high congestion and accident rates are also being improved through the addition of turn lanes, new traffic control signals and signage, and at some locations, realignment as a modern roundabout. (Reynoldsburg-New Albany Road/Morse Road Roundabout shown here).
High performance asphalt, concrete, and epoxy coated steel are being used to build long lasting roads and bridges that better withstand aging, freeze-thaw cycles, and the wear and tear of heavy traffic.
The widespread use of computer programs to more efficiently create construction plans, which began around 1990, continues to revolutionize our work. The latest software involves 3-D design, drafting, modeling, animation, and architectural drawing.