Highway Chronicle Chapter 6
Demands for Better Travel Lead to Road Alternatives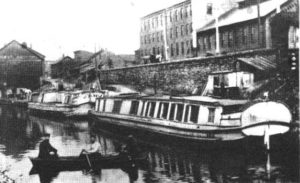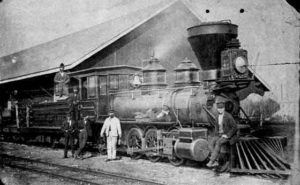 Columbus was becoming a major commercial and government center noted for its financial and legal institutions, the state penitentiary, restaurants, hotels, shops, buggy and carriage works, breweries, foundries, textiles, rock quarries, agriculture, and livestock.
The rising prosperity created new challenges to the highway system that would ultimately lead to a public outcry for different and more efficient modes of transportation.
A viable alternative was the Ohio & Erie Canal, located between Cleveland and Portsmouth, completed in 1832 at a cost of $4.2 million. The 308-mile long waterway passed through Canal Winchester and Lockbourne, and was linked to Columbus by an 11-mile long feeder canal. The local channel system, fed by the Scioto River and Big and Little Walnut Creeks, was a major freight and passenger route that provided mud-free travel until its closure in 1904.
The slow, horse drawn canal boats were overshadowed by the "iron horse" railroads that began operation in Ohio in the 1850s. Notable railroads, such as the Baltimore & Ohio, and the Cleveland, Columbus, Cincinnati & Indianapolis, would monopolize long distance freight and passenger travel throughout the nation for nearly a century, establishing Columbus as a key station, roundhouse, and freight yard location.