Highway Chronicle Chapter 3
National Road is First Cross Country Route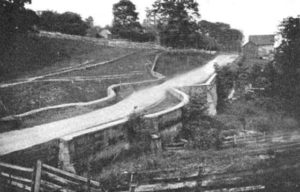 Declaring the importance of highways to the growth and vibrancy of the nation, President Jefferson signed legislation in 1806 to build the "National Road" that would carry settlers and commerce from Cumberland, Maryland to the American West. Ground was broken in 1811, and the section from Zanesville to Columbus was completed in 1833 at a cost of $320,000.
The route through Franklin County followed today's East Main Street west to High Street, and north to Broad Street (U.S. Route 40) where it crossed the Scioto River on a newly constructed 340-foot long Town's Lattice Truss covered bridge. The approximately 20 to 120-foot wide thoroughfare was praised for its macadam surface developed by Scottish Engineer John MacAdam (1756-1836).
A macadamized road featured a 12 to 18-inch deep base of large stone, a middle layer of smaller stone, and a top layer of compacted gravel and dirt that was gradually sloped for drainage into side ditches.
Toll gates were located every 10 miles to help finance construction and maintenance costs. A horseback rider paid six cents; stagecoaches drawn by two horses paid 12 cents; wagons drawn by a single horse or ox paid five cents; and those drawn by two animals paid 10 cents.
Beyond Columbus, National Road construction would continue seven more years through western Ohio, Indiana, and Illinois where it was completed at Vandalia in 1840.
To learn more about the National Road in Ohio, please visit the Ohio National Road Association web site.