Highway Chronicle Chapter 13
Today's Thoroughfares Carry the Pulse of Our Modern Society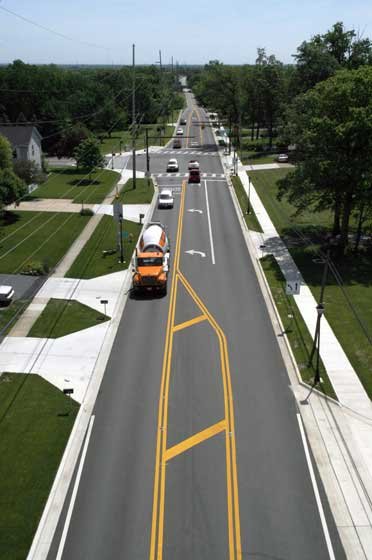 Today, there are approximately 4,618 miles of highways, roads and streets in Franklin County serving the travel needs of 1.1 million locally registered vehicles.
Maintenance and capital improvement projects are provided by the County Engineer's Office (271 miles of county roadway), District Six of the Ohio Department of Transportation (118 miles of interstate highway, 117 miles of federal routes, and 122 miles of state routes), townships (362 miles of roads and streets), and municipalities (3,625 miles of roads and streets). (White Road at McDowell Road shown here)
Regional transportation agencies also include the Mid-Ohio Regional Planning Commission, which performs comprehensive travel and environmental studies, allocates federal funding for infrastructure improvements, and manages a commuter rideshare program; the Central Ohio Transit Authority, which provides public bus service throughout Franklin County, and parts of Delaware, Fairfield, Licking and Union Counties; and the Paving the Way traffic management program, which assists government agencies with the planning and distribution of road construction information.
Ohio's approximately 118,000 miles of highways, roads, and streets comprise the nation's ninth largest roadway network. It provides for the transportation of 8.8 million licensed Ohio drivers, more than 12 million Ohio registered vehicles, and thousands of daily visitors.