Highway Chronicle Chapter 11
Post-War Road Construction Boom Shapes the Way We Travel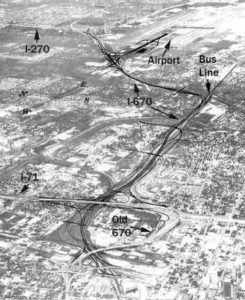 World War II focused new emphasis on the importance of roads as military supply and evacuation routes.
President Roosevelt signed the Federal-Aid Highway Act of 1944 authorizing the creation of a "National System of Interstate Highways," but this initiative would remain under-funded until President Eisenhower signed the Federal-Aid Highway Act of 1956. This legislation provided for one of America's largest public works programs, which was the construction of our multi-lane interstate highway system, and the modernization of state and local routes.
Interstate highways eventually built through Franklin County include I-70 (1962), I-71 (1966), I-270 (1976), and I-670 (2003).
Major federal and state routes include Broad Street (S.R. 16 & U.S. 40), Cleveland Avenue/Westerville Road (S.R. 3), Dublin-Granville Road (S.R. 161), Hamilton Road (S.R. 317), Harrisburg Pike (S.R. 3 & U.S. 62), High Street/Indianola Avenue/Portsmouth-Columbus Road (U.S. 23), Jackson Pike (S.R. 104), Johnstown Road (U.S. 62), London-Groveport Road (S.R. 665), Main Street (U.S. 40), Riverside Drive/Livingston Avenue/Columbus-Lancaster Road (U.S. 33), and State Route 315.